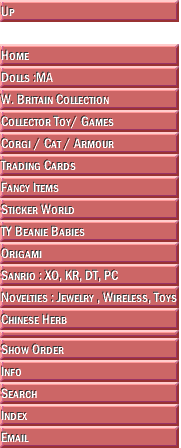 Abri Tea Extract has been formulated from a combination of folk's remedies. It is being recognized by herbalists to help maintain proper liver function.

Functions and indications: Clears heat and damp-heat of the liver, nourishes and invigorates liver blood. Developed specifically for acute and chronic hepatitis with jaundice. Excellent results without side-effects In acute hepatitis. Also useful for dispelling liver heat due to stagnation.

Packing: 500mg X 60 pills per bottle.

Caution: Do not use if pregnant.

Direction: As a dietary supplement, take 4 capsules 3 times a day.

Ingredients:
Lesser Speargrass, Chinese peony, Yin-chen wormwood, Gardenia, Jujube, Lycium, Tienchi ginseng powder.

This statement has not been evaluated by the Food and Drug Administration. This product is not intended to diagnose, treat, cure, or prevent any disease.

Temporarily Out Of Stock.




| | | |
| --- | --- | --- |
| | | |
| | 2002-2014 ToyToGo.com All Rights Reserved. | |
| | | |