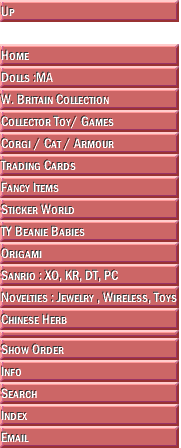 In the oriental arts of healing, herbal remedies have played an important role in promoting human bodily functions. Arthrytin is formulated to support a healthy circulatory system and helps eliminate the nagging discomfort found in bone and joints.

Functions and indications: Dispelling wind-damp, freeing and quickening the network vessels. Use for rheumatoid arthritis.

Packing: 210 pills per bottle.

Caution: Do not use if pregnant.

Directions: As a dietary supplement, take 10 pills, 2 times a day.

Ingredients: Shou Wu root, Carthami flower, Papaya fruit, Flum fruit

This statement has not been evaluated by the Food and Drug Administration. This product is not intended to diagnose, treat, cure, or prevent any disease.


Temporarily Out Of Stock.




| | | |
| --- | --- | --- |
| | | |
| | 2002-2014 ToyToGo.com All Rights Reserved. | |
| | | |