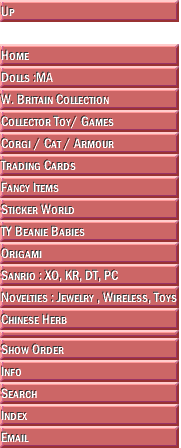 Erminwan is a specially formulated dietary supplement which increases the sense of hearing the world around you more clearly. The herbs in the supplement are of the highest quality and have been used for hundreds of years in China. Taking the dietary supplement Erminwan regularly will allow you to re-experience the beautiful sounds of nature.

Functions and indications: Use for weakness of liver, debility, vertigo, headache and auricular aibrillation.

Packing: 250mg X 100 pills per bottle

Caution: Do not use if pregnancy.

Ingredients: Chinese Foxglove root 59.2mg, Cornus fruit 29.4mg, Chinese yam 29.4mg, Mouton root 22mg, China root 22mg, Alisma 22mg, Thorowax root 16mg

Directions: Take 10 pills 2 times a day as a dietary supplement.

This statement has not been evaluated by the Food and Drug Administration. This product is not intended to diagnose, treat, cure, or prevent any disease.


Temporarily Out Of Stock.




| | | |
| --- | --- | --- |
| | | |
| | 2002-2014 ToyToGo.com All Rights Reserved. | |
| | | |