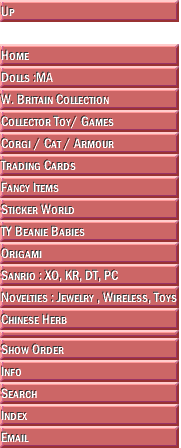 Actions Supports the health and well-being of the body. Helps to maintain the health of the heart, the respiratory system, and the immune system. Also helps to restore mental alertness when experiencing fatigue or drowsiness, and to provide relief of occasional sleeplessness

Directions Adults - Take 1 pill per a day with hot water or with a jujube or peppermint flavored mixture. Children 12 years of age and over - Take1/3 pill per day.

Active ingredients Licorice Root, Ginger Rhizome, Ampelopsis Root, Baikal Skullcap Root, Fang Feng Root, Saigon Cinnamon Stem Bark, Dong Quai Root, Apricot Seed, Thorowax Root, Japanese Arisaema Tuber and Chinese Rhubarb Root and Rhizome prepared with bovine bile extract, White Peony Root, Polyporus Sclerotium, Balloon-Flower Root, Cattail Pollen, Jujube Fruit, Cattle Gallstone, Oriental Ginseng Root.

Net Wt 1.33 oz 10 candies

Warnings Not to be used during pregnancy or while nursing, for children less than 12 years of age, for long term use in excess of 8 - 10 days, or in cases of spleen deficiency. Not recommended for use in cases of intestinal obstruction, or inflammatory condition of the intestines (appendicitis, Crohn¡¯s disease, irritable bowel, etc), abdominal pain of unknown origin, spitting blood, tuberculosis, diabetes, hypertension, liver disorder, severe kidney insufficiency, and hypokalemia. May potentiate potassium depletion of thiazide diuretics and stimulant laxatives, as well as the action of cardiac glycosides, and cortisol. Persons with gallstones should consult a practitioner prior to use. Individuals with a history of kidney stones or peptic ulcers should use this product cautiously. Avoid seafood, cold or raw food, or food or drink prepared or served in ironware. This product contains Rhubarb Root. Read and follow directions carefully. Do not use if you have or develop diarrhea, loose stools, or abdominal pain because Rhubarb Root may worsen these conditions and be harmful to your health. Consult your physician if you have frequent diarrhea or if you are pregnant, nursing, taking medication, or have a medical condition.

This statement has not been evaluated by the Food and Drug Administration. This product is not intended to diagnose, treat, cure, or prevent any disease.



| | | |
| --- | --- | --- |
| | | |
| | 2002-2014 ToyToGo.com All Rights Reserved. | |
| | | |