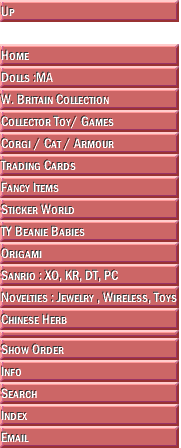 According to the Chinese herbal therapy, there are many botanical combinations can be formulated to naturally support the body's bone and joint healthy. This remedy helps promote and maintain the bone and joint function healthy to coping with discomfort due to the changing season.

Functions and indications: Soothing the channels and quickening the network vessels, dissipating wind and transforming stasis. Use for weak sinews and bones, wind-damp bones pain, numbness of the limbs.

Packing: 240 pills per bottle.

Caution: Do not use if pregnant.

Directions: As a dietary supplement, take 20 pills after meal with warm water, 3 times a day.

Ingredients: Harba Namxing, Herba Fang Feng, Herba Banxia, Tangkwei root, Herba Duhuo root, Lovage root, Szechuan Aconite

This statement has not been evaluated by the Food and Drug Administration. This product is not intended to diagnose, treat, cure, or prevent any disease.



| | | |
| --- | --- | --- |
| | | |
| | 2002-2014 ToyToGo.com All Rights Reserved. | |
| | | |