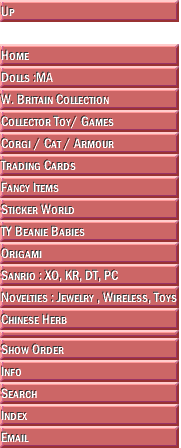 Establish the body's natural balance for a healthy musculoskeletal system. Supports circulation to eliminate the nagging discomfort, helps maintain skeletal function and the freedom movement of the joints.

Functions and indications: Dispelling wind and eliminating damp, soothing the channels and quickening the network vessels. Use for rheumatism, wandering arthritis, hypertonicity of the limbs, limp aching lumbus and knees, difficulty in bending and stretching.

Directions: As a dietary supplement, take 1 serving (6g) 2 times a day.

Warning: Do not use if you are pregnant.

Contents: 6 Boxes of 6g each

Ingredients: Chinese Peony, Rehamannia, Scrophularia, Dong Quai, Foti, Chinese Licirice.

This statement has not been evaluated by the Food and Drug Administration. This product is not intended to diagnose, treat, cure, or prevent any disease.



Temporarily Out Of Stock.




| | | |
| --- | --- | --- |
| | | |
| | 2002-2014 ToyToGo.com All Rights Reserved. | |
| | | |