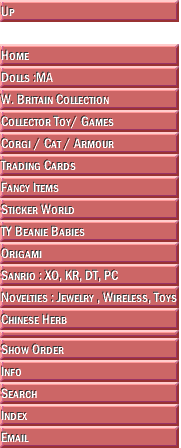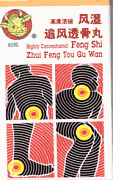 Indications: Lumbago spasm of articular rheumatism. Backache weariness and feebleness of loins and knees. Muscular and articular pain in the extremities and body aching, severe local pain, migratory pain aggravating during cold weather. All of which are defined in western diagnosis as meumatic arthritis or rheumatoid artritis.

Dosage: Adult 3 pills each time, twice a day, taken with warm water. Children dosage to reduce according to age or as instructed by the physician. After meals.

Caution: Not for pregnant women.

Ingredients: Vicina Roger Powder, Impatiens Balsamina L, Radix Angelicae Pubescentis, Herba Taxilli, Radix Codonopsis, Poria, Cortex Eucommiae, Radix Angelicae Sinensis, Radix Rehmaniae, Cortex Cinnamomi, Radix Glycyrrizae, Rhizoma Zhingberis Recens.

500mg X 60pills

This statement has not been evaluated by the Food and Drug Administration. This product is not intended to diagnose, treat, cure, or prevent any disease.





| | | |
| --- | --- | --- |
| | | |
| | 2002-2014 ToyToGo.com All Rights Reserved. | |
| | | |